Talking to a crackhead. Just somebody drugged the fuck out, in the middle of the night, whacked-out saying non-sense. It's sad and it sucks, but fuck man, it's scary. You don't know what happens next.
Also the amount of SHIT I GOT DONE THIS WEEK!
INKTOBER 2021 IS DONE!
Soooooo DAMN! I think this is the first year I didn't miss any and I'm kind of digging everything on here. There are some that I wish I did better, but still not bad! Plus some good ideas came out of it, and I issued my writing muscles on some of these. Is it Shakespeare? No, but my pice of shit is better than your perfect nothing!
So I hope to make a zine for this, give it out to PATREON and SUBSTACK subscribers and sell them maybe on a later date on here and on the site and the shop! Want one? Stay tuned!
PODCAST
Get in touch
Have something you want me to discuss on the podcast?
SUBSTACK
Working on the Anthology and the man, I love how it's coming together. I want to surprise you guys when it's done, and I want you guys thinking it's going to suck to SHAKE YOUR FISTS AT THE SKY. How wrong you were!
Actually, everyone has been super helpful and supportive, so I'm talking about my need to be crowbarred butt again. Man, I wish I had an arch-enemy at times to bounce off them and get work done. Sure,, somebody cheering you on is cool and all, but someone hating on you HARD? That right there is Jet Fuel, my friend.
That being said, the big kick in the nuts is just REALITY. The Reality of well, living. Working and making money, and now with the holidays looming, I've had to take on many freelance gigs and commissions to money together to see family in two different states (really 3) and be able to take time off from the shop. Such things like this may take a delay or so. Since I don't have anybody hating me or outraged, I guess it's okay right?
Every day there is something to do. I don't care what you are doing or what is your pursuit; there is always something to do, SOmetimes cleaning up is enough for a bullshit day. Ain't make the thing happen, but it will set you on your path and get your mind going. So then:
I feel like I'm showing up in my underwear, showing you my desktop. WTF.
Anyway, worked on getting my files in order, also wondering what I might need scanned and perusing this year's Sketchbook for the odd note or sketch to throw in or use. I use Fabriano Skethcbooks all the time, the smaller ones because they fit anywhere, including in front of the laptop while working, and the paper is good, not great but good. Gets the job done.
Here I have Pretty much the first issue. Going to finish lettering and figure all the tiny nooks and crannies for stuff I want to fit in there, including a one-page Were-Tank strip for each issue.
Were-Tank (Werewolf) is a joke strip about a guy who changes into a tank every full moon. Yes, very high brow, I know.
So I hope to start the lettering this week and then get onto the cover. I have one done, but I'm not happy with it and may just attack it again. This time I'm doing a complete painting that will be made into the cover. This I will tow with me to Cons. Hopefully, by next yearI'lll have several images to show for several covers.
THE SHOP
COME GET YOUR NERD ON! Comic review and Claim sale live from GOBLINS HEIST in HIALEAH FLORIDA! Every THURSDAY night around 9-ish (EASTERN TIME and we run on CUBAN TIME) with Juan Navarro (Owner, comic creator, and Comedian) and Fawad Siddiqui (Actor/ NERD) as we go over the comic that came out this week, and other PRESSING NERD business with also the Star Wars Minute and Indie/Patreon books too!
KICKSTARTER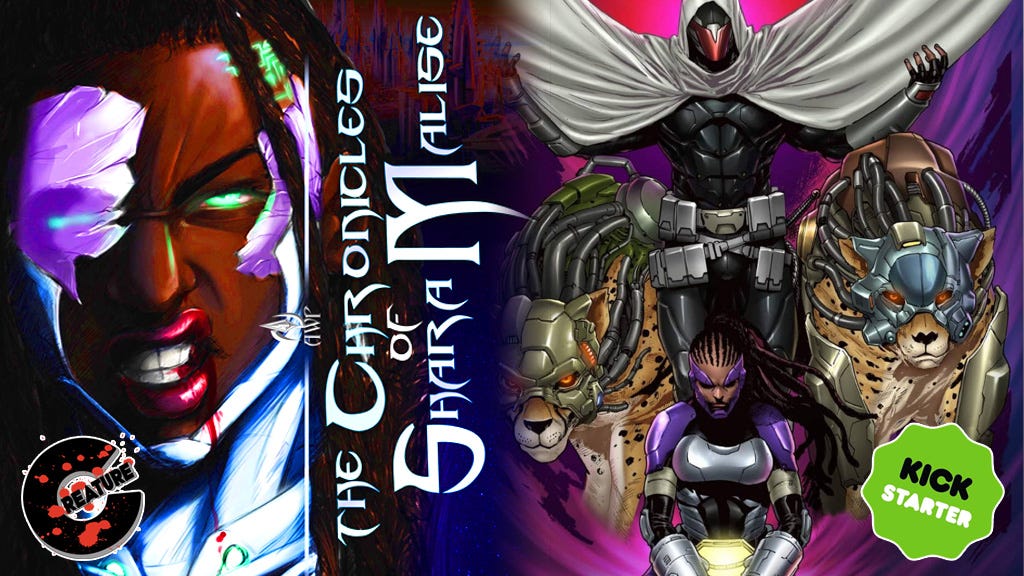 This is happening on KICKSTARTER. I was the letterer and helped with some edits and we are trying to make this possible for next year.
Take a look and for just $5 you can get a full digital set of the series!
For a little more you get a plethora of Print books and goodies! SPREAD THE WORD!
Okay so I'm writing this FRIDAY NIGHT because I have GOBLINFEST happening this weekend and suspect I will either be sleeping late or sleeping with the fishes come Sunday, so enjoy and hit me up afterward for any and all questions as I will be now going full-on MAKE COMICS mode!
So till next week,
BE GOOD